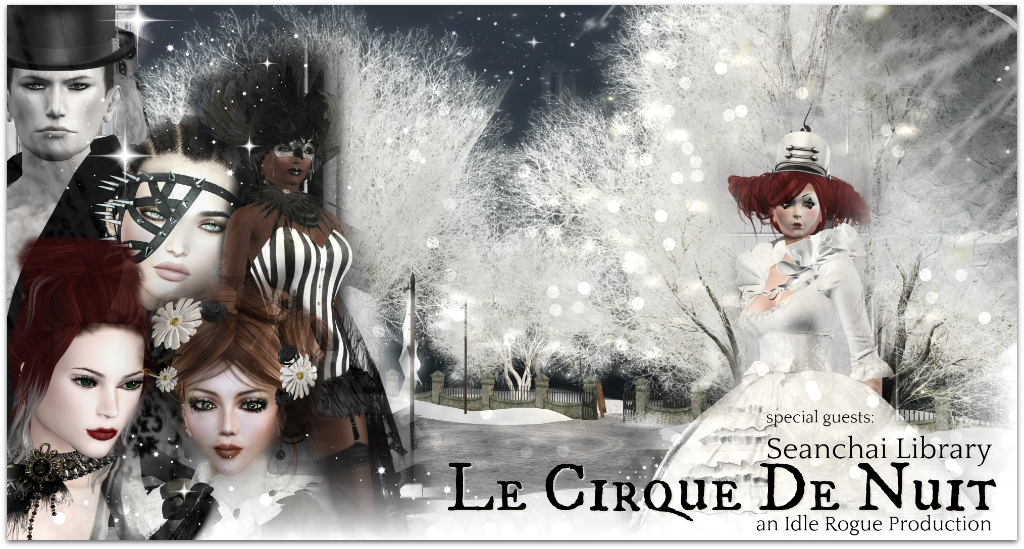 Idle Rogue Productions are presenting the very successful Le Cirque de Nuit again this Easter, with performances at 7pm on March 30th, 31st and April 1st , and a matinee performance at 3pm on March 31st.
Directed by Blaze DeVivre, with the assistance of Sho Kyong, and produced by chryblnd Scribe, this year's production will feature new acts, new dancers, new art installations and perhaps a little something we haven't done before.
Billed as "a steampunk circus in black and white", Le Cirque de Nuit pays loose homage to The Night Circus, a novel by Erin Morgenstern, which tells the tale of an enchanted circus traveling the globe during the Victorian era. Our production features dance acts with themes of circus, illusion and steampunk, and the strictly black-and-white acts are interspersed by colourful art installations from Second Life content creators.
This production debuted in 2014 and has since presented some of the most innovative dance creations in Second Life. It is beloved by all who have seen it, with its breath-taking special effects and an elegant ambience you will not forget.
Tickets will be released on March 2nd.  The opening night performance on March 30th  will be exclusive to members of the Guerilla Burlesque Exclusive group.
Production enquiries should be directed to chryblnd Scribe. Media enquiries should be addressed to Aubreya Joszpe. Bookings have opened, please IM Saturday Melody inworld to secure your seat.
Collected machinima of the production can be viewed here:
http://www.youtube.com/playlist?list=PLgv_Su4XQdaFED8yzyUQb9UKmBR9LkLB0
Reviews:
Kat Feldragonne 

Virtual You Magazine (adult content) page 86
Crap Mariner for Modem World (2018)
Sunnie for Showtime Magazine (2018)