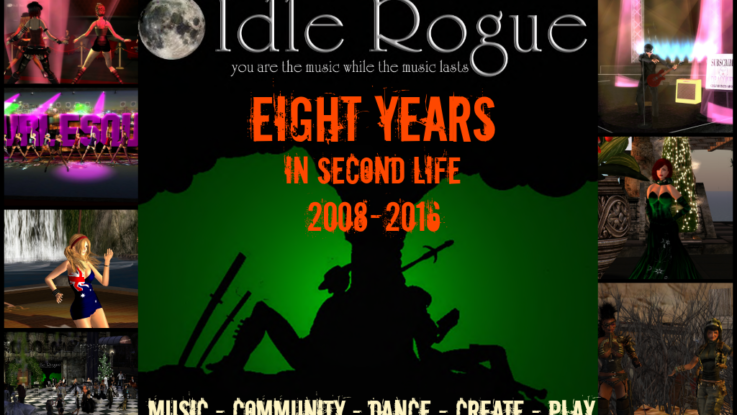 Happy Birthday Idle Rogues, your community is eight years old on November 8th. A brief origin story exists over on the old blog, but the story is long and has many twists. Some of our highlights from the last eight years?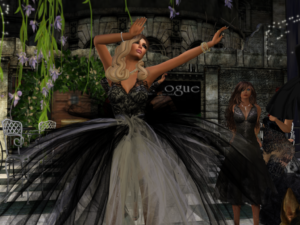 Our opening live music event, a 12 hour festival of carefully curated live musicians that left us both exhausted and exhilarated
The Beautiful Freaks Burlesque CircusOur first rock extravaganza productions – "Bowie Bravin and The Beautiful Freaks" and "Mr Timeless and The Pale Hypnotic"
The many beautiful and eclectic friendships that have formed on Idle Rogue, and those who wandered in and made it their home.
The gradual building of a community of people who liked what we do and made it more fun to do it
Residencies from Jordan Reyne, Tukso Okey, Kiplan Carlyle and Bowie Bravin
The heavy joy of Deep Sky Traveler
Working to bring well known musicians like The Eden House, Dalek, and Riz Maslen into Second Life and our Music² benefit for indie musicians.
Idle Rogue's New Resident Village and the many friends we still have from those days
Our association with The Joy Of Steampunk and their generous patronage as we moved onto our own sim
Bringing you some of the best live musicians in Second Life – Digby Smalls, Guitar Zane, Anek Fuchs, Saintess Larnia, AMForte Clarity, Hazideon Zarco, JimmyT49 Dukes, Ed Kyomoon, StevenJaimz Hunniton, Armin Finesmith, Dragonfly, Tallyesin, Pol Arida, The Follow and many many more
After Dark and The Metaharpers of Second Life join the Idle Rogue ecosystem
Adding an Idle Rogue Guild to service our community in Guild Wars 2
Roguery Camp, now three year veterans of the amazing Burn2 experience
1000 Group Members!
Happy Birthday Idle Rogues, one and all. You make me smile every day, and you add one thousand nuances to my Second Life – chry xx